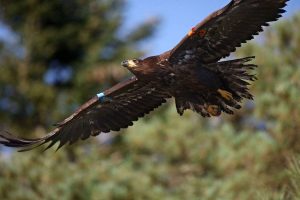 Unfortunately, we have sad news. Eddie, the young eagle that fledged from Glengarriff in 2016, was found dead on the Dingle Peninsula in June. He had been dead for about 2 or 3 months (just bone and feathers remaining) so it was not possible to establish the cause of death of two-year-old Eddie. 'While it's possible he died of natural causes (e.g. starvation), most such 'natural' eagle mortality occurs in the first year of life (typically 25%) but is much lower in subsequent years as individuals gain the experience and skills to survive in the wild' said Dr Allan Mee (White-tailed Eagle Project Manager). 'However, human related mortality (e.g. poisoning) can equally impact all age classes', he went on to say.
There was great excitement back in 2016 when Eddie became the first wild eagle to fledge in Co Cork in over 100 years. After leaving his nest site on Garnish Island in late 2016 he was sighted at several locations on the north side of the Beara Peninsula during his first winter. By spring 2017 he was on the Iveragh Peninsula and last winter there were sightings of him on several of Co Kerry's beautiful sandy beaches in Dingle Bay, Tralee Bay, Brandon Bay and on the Blaskets. The last definite sighting of him was on Fermoyle beach not far from where he was found dead several months later.
His remains were discovered by Martin, a forestry worker from the Czech Republic, who was planting trees for Coillte in a plantation west of Cloghane village. Although it was very sad to learn of Eddie's death we are very grateful to Martin for reporting his finding. Thanks also to all the people who were lucky enough to see Eddie in his full glory as he travelled around Kerry and who took the trouble to send in photographs and details of their sightings to Dr Allan Mee or NPWS. Eddie wasn't satellite tagged so these sightings were invaluable in tracking his movements.
May all the other young Irish-bred eagles out there stay safe and not suffer the same fate as Eddie.
Clare Heardman (Conservation Ranger NPWS)