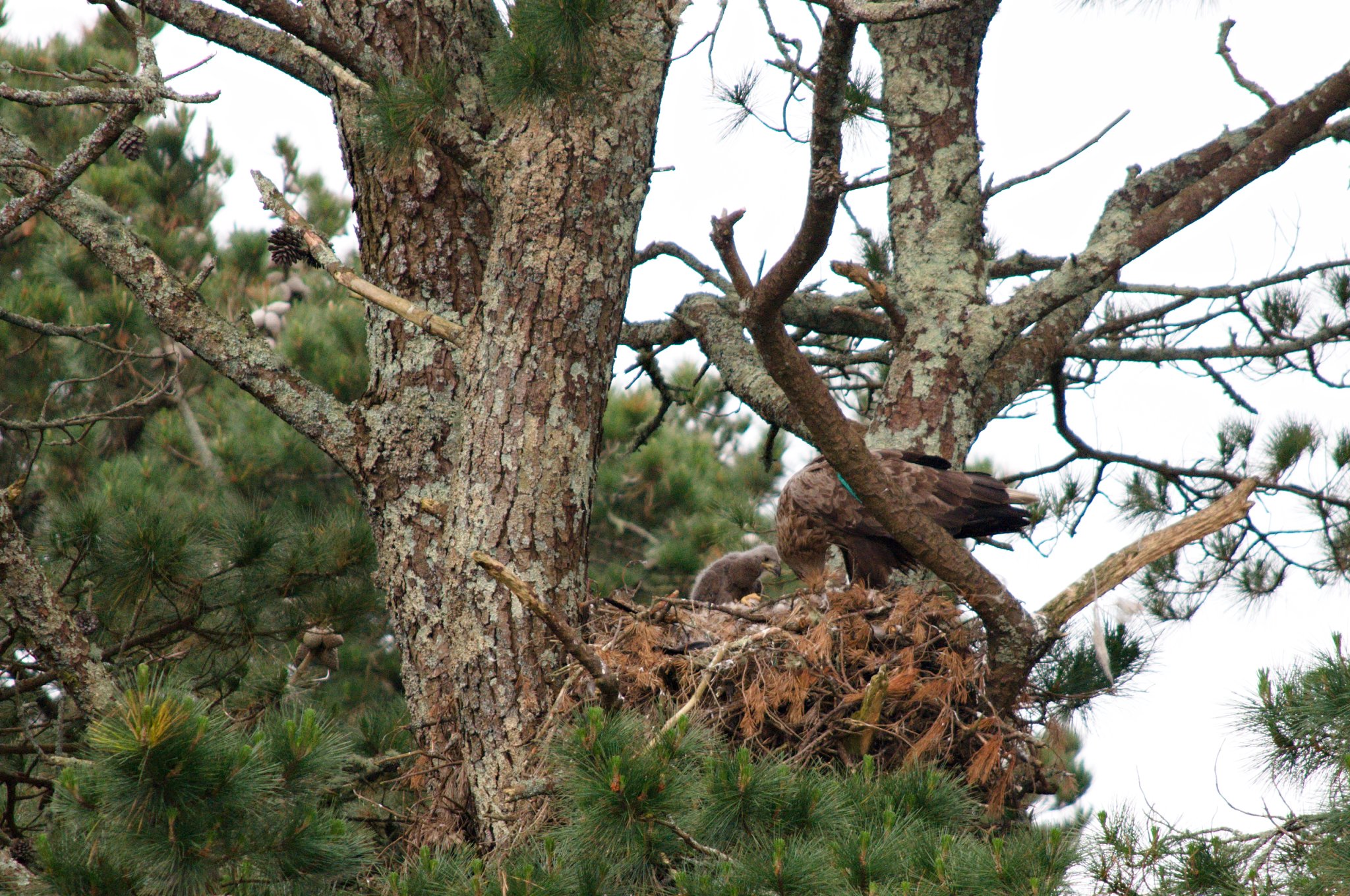 Sad news: unfortunately the younger of the two eagle chicks didn't survive Wednesday night. The little chick had been struggling for a few days so we had started supplementary feeding and were hopeful that s/he would make it. The chick was still alive at 5:30pm on Wednesday, but the cold, wet weather that evening was probably the final straw.
Dr Allan Mee, who manages the White-tailed Sea Eagle Reintroduction Programme said, "It's always disappointing and sad to lose a chick, especially one we've all been watching closely over the last 10 days or so. But the reality is that relatively few pairs are regularly successful in rearing two chicks. Typically the second hatched chick survives in good breeding years when food is more abundant. In Norway only about one in five pairs rear two chicks on average.
"In Ireland only two pairs have reared doubles to date. Extra food (fish) was provided to the nesting pair at Glengarriff in the last few days in the hope that this would increase the chances of both chicks surviving, but this wasn't to be. We have great hopes the pair will be successful in rearing the remaining chick to fledging."
In Scotland, where white-tailed sea eagles were reintroduced in the 1970s and 1990s, Dave Sexton is the RSPB Officer on the Isle of Mull with special responsibility for the eagles. He told us, "It's not at all unusual to lose one chick out of a brood of two. It can be for many reasons: the first chick is stronger so gets more food and inevitably there's some aggression although generally it's thought to be less in sea eagles than golden eagles.
"On Mull we often start with two chicks but by the time they get to fledging age at around 12 weeks, there's often only one left. Two chicks every time would be great but that's just not the way it works. One fledging is still a very good result for any pair."
The remaining chick is looking big and strong (video) and we are hopeful that this one will continue to thrive and we will see it taking flight in about 10 weeks from now.
Thank you to Dr Allan Mee for support and advice and Brendan O'Sullivan (Harbour Queen) & OPW for assistance with the supplementary feeding.